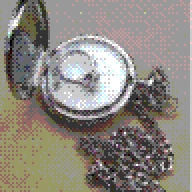 Joined

Apr 14, 2006
Messages

3,929
Okay, I woke up early this morning and instead of falling back asleep after Paul left for work, I stayed up and flipped through the channels. I''m one of those crazy people who loves to see what infomercials are trying to sell in the middle of the night (or 6am, which might as well be 2am for me!).
There was one talking about a new program that, it is claimed, can teach a child to read as an infant. There were clips of home videos (or so they said) as well. There was a baby, I mean a chubby thighed maybe 5 or 6 month old child and they held up a card that read "Kicks" and the baby began kicking her legs. Um, I''m not sure that means the baby knows the term and recognizes it by sight or if that means the baby likes to kick her legs, but it''s not reading.
Then there were slightly older babies (18 months) reading cards and even books. I couldn''t clearly determine what they were saying because much of it was still the incoherent only-a-parent-knows-what-is-being-said verbage, but it sounded like the kid *may* have been reading.
Has anyone heard of this?
What are your opinions on teaching children these skills from infanthood?
The website listed on the infomercial was:
www.Yourbabycanread.tv