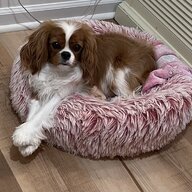 Joined

Aug 12, 2005
Messages

17,744
Date: 2/10/2010 10:42:35 AM
Author: KimberlyH
I asked my husband what his cutoff age would be for trusting a kid to watch our baby if we were to go to dinner or run some errands. He said if we were nearby, dinner up the street, etc., he would leave a responsible 12 year old, that we know well, with our kid, but he would much prefer to leave an infant with an adult because babies don''t have the ability to communicate needs.

I absolutely agree that 11 year olds are not the same as they were even 10 years ago, I just also happen to find it disturbing and know that there are some 11 year olds who are quite capable and responsible.
Ditto/thritto/I agree also.
I think I started sitting for a 2-3 y/o when I was 12. Shortly thereafter I sat a few times for 3 kids at once, ages 6 months, 2 years, and 3 years. That was insane and to be quite honest I remember feeling overwhelmed. It was during the day maybe just for a couple of hours on a Saturday, but it was a LOT for a 12 y/o to deal with. The 2/3 year old I sat for on Saturday nights while the parents were at dinner and then dancing at their local fraternal order clubhouse was far easier than multiple kids.
I took the Red Cross SuperSitter class too, H_H. Most of the girls in the class were 10/11/12.
I don''t have kids, so I can''t say for sure whether I think 11 is too young. I only have my experience as an 11/12 year old babysitting to pull from. I was intelligent enough and responsible enough to interact with the kids, and know how to use the phone and what numbers to dial if anything went wrong. Nowadays parents are readily accessible with cell phones, and good god, kids can just google "CPR" if they forget what to do! LOL