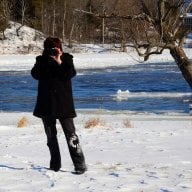 Joined

Sep 3, 2013
Messages

2,385
I'd never heard of cultural appropriation until Kenny's thread about food.
Jen Scharf, who taught the free yoga class at the University of Ottawa for the last seven years, was told the class was cancelled.
"I guess it was this cultural appropriation issue because yoga originally comes from India," she said on Sunday. "I told them, 'Why don't we just change the name of the course?' It's simple enough, just call it mindful stretching.… We're not going through the finer points of scripture. We're talking about basic physical awareness and how to stretch so that you feel good.
"That went back and forth… The higher-ups at the student federation got involved, finally we got an email routed through the student federation basically saying they couldn't get a French name and nobody wants to do it, so we're going to cancel it for now."
The requirement to have a French translation of the class name is due to the bilingual nature of the University of Ottawa.
http://www.msn.com/en-ca/news/canada/yoga-classes-cancelled-at-university-of-ottawa-over-cultural-issues/ar-BBnkb9V?li=AAacUQk&ocid=HPCDHP
If you want to feel oppressed, victimized, offended, discriminated against, go for it.
Yes, I know I just offended some people by stating my opinion.