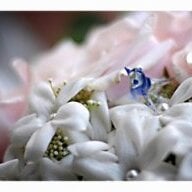 Joined

Oct 12, 2006
Messages

527
This week has turned out way better than expected!!!
I have had an absolutely stressful week and a half.. and Wednesday, it took a turn for the better!
Wedding bands are ordered!!! (and my messed up e-ring setting is being replaced for $200 bucks!!! - its a platinum setting! Sweet deal!)
One of my best friends from the island might actually get to come to the wedding!!!
Bachelorette party is scheduled for March 2nd!!!
My first dress fitting is next Friday.. I get to go home to the States for the weekend.. and see my mom (yay!!) and my MOH...
I found out last night that I reached my mini-weight-goal of 5 more lbs before my fitting (for a total of 32lbs)... so now I get to buy some new coach shoes!!!
Finally.. I see the light at the end of the tunnel...
50 days to go!!!!

I just had to share my complete excitement!! I am starting to feel like a bride again.. and not the depressed slug I was last week!!!