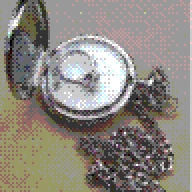 Joined

Apr 14, 2006
Messages

3,929
I don''t know whether or not my band will have the emeralds in it that we''d been talking about getting, because the jeweler wasn''t there today to confirm the price difference or his suggestions as to how it''d look, but we ordered it, with the availability to change to a special order once it comes in, if Paul decides to do the emeralds after all.

His band is going to be a hammered finish white gold. He finally decided that white gold is better looking on him than yellow gold. Yay! We''ll match colors after all. He''s still kind of teetering between the hammered finish and the satin finish, though. We have until Wednesday when the order goes out to make a *final decision.* Here''s hoping he makes it! He''s just so tedious in making the *most informed, best decision,* as he puts it.

What fun it was to get what will be our wedding bands! YAY!!