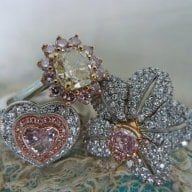 Joined

Aug 1, 2011
Messages

2,362
aviastar|1316723427|3023244 said:

sphenequeen|1316662101|3022627 said:

What are the liabilities of some of these places taking jewelry on consignment? I know of a few places that take things on consignment but do not present it to the public as such - they sell it as their own inventory and are therefore liable if something is to happen to the piece within a reasonable amount of time (small stone falls out, chain breaks, etc.). In the case where the business takes on these liabilities and has to stock the piece, keep it safe, and add it to their insurance, what is a fair percentage?

It varies by state, but in my state they also have to be licensed by the state and county to consign jewelery (or even outright buy it and re-sell it), hold all items for 30 days before displaying, send reports of all consigned items to the sheriff's department for review against stolen item reports, own specific 'approved' scales, ect. It's a huge PITA.

Plus, depending on the store, it needs to be cleaned, photographed, listed on the website, insured; plus, as part of inventory, it does have to pull weight for rent, utilities, and other overhead costs. Your consigned piece has to be the equal profit of something they order/make, or else why hold case space and work to sell it?
Wow- what state do you live in???? That's a lot of restrictions!