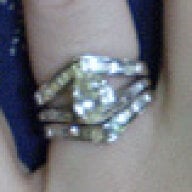 Joined

Feb 17, 2008
Messages

1,166
I''ll try to keep this short.
FI has a friend that he grew up with (I''ll call him T). T and his GF had been renting out their upstairs apt to a mutual friend of all of us (I''ll call him J).
To make a long story short, J fell behind in the rent, and after many months of trying to be flexible/cooperative with J, T and his GF evicted J. J ended up moving in with FI''s brother. Now, of course there are hard feelings between T and J. HOWEVER (and this is the F''d up part), T decided to harbor ill feelings toward FI''s brother for helping J out. FI''s brother is our Best Man. FI has had numerous discussions with T about how it''s unfair to be putting himself and his brother in the middle of all this. T has agreed it''s unfair, and that he''s sorry, and made amends with FI, but he hasn''t yet tried to amend the situation with FI''s brother. T & J are pretty much on the out and out now. FI is on friendly terms with everyone, and everyone is invited to the wedding.
So T comes over the other night to hang out with FI while I''m making the invitations. And he tells us that he and his GF will come to the ceremony, but not the reception. He doesn''t want to be in the same room with J, and hasn''t talked to FI''s bro since this whole thing came to a head. He says he knows "everyone will be drinking" and he doesn''t want any drama.
FI is upset. He, J, T and his bro all grew up together. They lived on the same block and everything. Part of me is upset, too, as FI and I have been together almost 10 years, and his friends have become my friends, too. T and his GF met through me (I used to work with her). Obviously, I don''t want any drama at my wedding. But don''t you think grown men should be able to put their personal feelings aside in a situation like this? I totally understand why T is mad at J, but I cannot understand how you can miss the wedding celebration of your life-long friend over some stupid pettyness. I expressed these feelings to T, but he stuck to his guns about not attending the reception. Another part of me understands where T''s coming from, as both T and FI''s bro can have a tendency to be short-tempered when alcohol''s involved. So I told T that if he''s that worried about it, don''t drink at the reception. And he looked at me like I had 10 heads.
I feel bad especially for FI. We both just want our friends there to celebrate with us and have a good time.
Ugh, and they say girls are catty