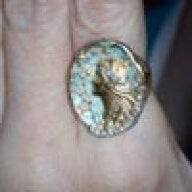 Joined

Dec 15, 2009
Messages

1,625
This might sound jumbled, so please bear with me. I have a friend 'll call Mary. She has always been paranoid, but I noticed it getting worse the last couple of years.

We used to work together part time for a family business and she began telling me that the boss installed hidden cameras in one of the boxes in the storage room, which also served as the break room. I took a broom, moved all the boxes and proved that there weren't cameras. SHe told me the next day they were installed in the wall and couldn't be found.

During this time she was under ENORMOUS stress. I'm not talking just the problems of everyday life, I'm talking about soul-crushing problems. She would talk to me bout it, but blew off my suggestion of seeing a therapist.

Last time I saw her was at a church bazaar. It was in the evening and we talked for a while. She kept asking if I saw all those who were coming up to take our pictures or used microphones to overhear what we were saying. She couldn't be dissuaded from her feeling that there were cameras after her.

So she fell off my map and I hadn't heard from her in a while and she didn't answer her phone. I ran into someone the other night and asked her if she had heard from Mary and she began to cry. Apparently she got up one morning, left her house, husband and children and disappeared. Here's here it gets a little puzzling as the woman said she bumps into Mary every couple of months on the internet.

I could understand leaving your husband, but she would NEVER leave her kids--they were life. This is NOT the Mary I have known. I asked my kid to see if she's on FB, but she's not.

Does anyone have any ideas how barely iterate computer person could look? Or is this none of my business and I should just but out and trust she will get in touch when she's ready?

If you've gone this far, thanks for reading it.

PS--we were never computer friends if we weren't together, we would communicate by phone.