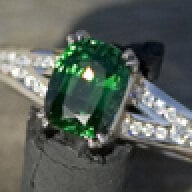 Joined

Aug 3, 2006
Messages

9,613
For the last two years I have been studying towards the FGA (Fellow of the Gemmological Association of Great Britain) and my final exams are this week.

Tuesday I have the two 3-hour written theory papers and on Thursday the dreaded 3-hour practical exam.

Pass mark is 70% and only about 45% of students pass so I'm a little nervous. It's supremely easy to screw up the practical - get 3 stones wrong and it's an automatic fail of the whole thing.

Anyway, I would appreciate dust for the right questions (ie what I know) in the theory papers and to not panic and over-think in the practical!

Results come out in August so will be chewing my nails for a good long time...