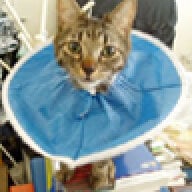 Joined

Feb 15, 2007
Messages

13,166
Hey PSers, I need your input.

I need to have my wisdom teeth extracted. I met with my dentist and an oral surgeon today, and set the extraction date for Thursday, 6/9. However, I don't know if I can last that long. The surgeon wanted to do the surgery this week, but I put it off because I'm standing up in my sister's wedding THIS SUNDAY, 6/5.

I've been in terrible pain since Friday AM when I woke up and felt like someone had punched me in the jaw. The left side of my face hurt and my gland was swolen on that side, and at first I stupidly just thought I was getting sick. I didn't realize it was my wisdom tooth until that night, and by then it was too late to see anyone about it. (My sister and her FI had their auf ruf early Saturday AM, and then we went straight from that to her bachelorette party (which I hosted) for the entire day Saturday and Sunday. Yesterday was a holiday so nobody was open, so I just waited it out until today to see anyone.)

This is agony. I've never had pain from my wisdom teeth before, and I had no idea it could be this bad. I wish I had these taken out years ago, but my former dentist thought they were going to grow in fine and it wouldn't be necessary. JOKE'S ON ME, I guess.

Here come the questions:
Have you had your wisdom teeth out? If so, how long did it take for the pain to subside?
Am I crazy to consider having them removed tomorrow, 6/1, when I have the wedding four days later? Will I look like a chipmunk? Will I be in too much pain to smile?
On the flip side, I am MISERABLE. Even with ibuprofen, this pain is terrible. Will the post-op pain from the extraction be worse than the agony I'm feeling right now? (I wll have all four removed, not just the one that is currently torturing me.)

Some other things that concern me:
- I'm 30, and it sounds like the older you are the more difficult the recovery because the bones are stronger and the roots more rooted, or something like that. Anyone have their wisdom teeth extracted at an older age?
- I have particularly strong bones. I had to have 10 of my baby teeth pulled by my dentist because they would not come out on their own. This sounds like a negative for extraction surgery.
- The surgeon says I have very long roots, which also sounds like a negative in terms of how much this will hurt after the fact.
- What kind of anesthesia did you use? It sounds like my options are a) a local anesthesia with a sedative to calm the nerves, b) IV sedation where I will be awake during the operation but will have no memory of it, and c) general anesthesia. I'm thinking the IV sedation is best, opinions?

I'm in pain! I cannot make a qualified decision because if I could, I'd rip this sucker out of my mouth myself RIGHT NOW! DH thinks I should try to reschedule the surgery for tomorrow, but I don't want to be a miserable bloody chipmunk for my sister's wedding.

WWPSD????