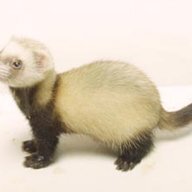 Joined

Jul 27, 2004
Messages

406
So hubby and I have been in our new place for a few months now (yay! Insulation! Heat!). We''re working slowly through decorating the place since dear husband couldn''t understand why we''d want to put a different color on the walls. White is fine! *sigh* He''s getting better, especially once I gave him the sink-or-swim experience by painting the wall in the second bedroom a wonderful shade of orange (muahaha!). We''ve got plans for some of the other rooms, too...

We''re finally adding rugs!

But dang it, I''m at a loss with the window coverings. Right now we''re living with the miini-blinds that came with the place - bare and generic-looking. I''d like to do something different, but the windows have this wonderful trim around them that I don''t want to completely cover. Where do you hang a rod, then?

Any suggestions for unique, stylish window coverings? Husband admits that he really likes the sheer and linen panels but not so much heavy drapes.