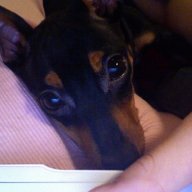 Joined

Jun 1, 2008
Messages

887
Sorry in advance for the mini-vent. I am just super upset right now. Such a bad day today in Frankfurt.

Three annoying/bad things happened today:

1- Our friends who happen to have a newly adopted daughter from Vietnam. The adoption went through a few weeks before they moved here. Anyway, they have been dealing with a TON of racism, it is really awful, but that isn''t even the really bad thing. (although it could be an entire new post on the hideous things people have said to them) The mom and toddler were flying to the US today- they got to passport control and were detained and accused of child trafficking. This was just the icing on the cake for her- I really hope she returns to Germany at the scheduled end of the trip. I know she is really fed up.

2- my FI was at the gym today and some guy got in his face and started accusing my FI of stealing his mp3 player. Really random and the guy was out of line. My FI even told him to check gym records since we were out of the country for the last 2 weeks and he wasn''t there when the player was ''stolen.'' The guy was just starting a fight. My FI doesn''t even have an ipod and his player is like 5 years old and bought in the US- really what are the chances some German guy had the same one?

3- Just 5 minutes ago we were walking our puppy. Unlike most Germans we keep him on a leash at ALL times. So he was doing his business and out of nowhere a HUGE German Shepherd comes and starts attacking him. (he is 8 lbs) My FI tries kicking the dog to get him off ours and it doesn''t even phase him. Some lady finally comes running and starts yelling at us and can barely contain her dog. My FI yelled at her and kept saying ''use a leash'' in German (I think). Some expletives are universal though. It was ugly and my dog could have been killed. They really need leash laws here.

Ugh sorry had to vent- just soooo annoyed today. Just 14 more months!!!