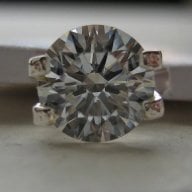 Joined

Jul 2, 2005
Messages

247
Hey everyone!
My best friend is getting married and went to try on dresses yesterday. She tried this dress on and really liked it, but the saleslady wouldn''t tell her who made it until she agreed to buy it!! I just think that is ridiculous...but that is besides the point.
Her family lives quite far away, and can''t be there to help her decide, so she wanted to see if she could find more pictures of it online, so I was hoping someone here recognized the dress!
It''s funny, because I''ve actually seen it before when shopping for another friend of mine, and thought it would be a great dress for my best friend!
Any help would be great! Thanks!