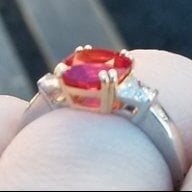 Joined

Nov 3, 2009
Messages

7,589
These are two rare books published only once "to commemorate 50 years of the greatest battle in our history". I think they are called "antiquariat". Photographs from the Civil War and also a lot of historical text, but my son is past this period of history, he was interested once but moved on fast (he moves on very fast once he satisfies his knowledge). He moved to Brown to further his education and said I was totally free to share, donate or sell whatever is in his room. He just moved on.

I am selling his CDs but as to books, I do not want to make money on books, books are to be read. There are some I am going to sell, some I leave for myself, some for my younger son, but neither of us is into the Civil War, and I want the books to get in hands of people interested in them, because I know some of you may be. So if anyone feels he could expand his library by two good books on the Civil War published only once, please respond. You do not need to reveal the real persons behind the screen names, I can mail them to churches or clubs you visit, or whatever place you indicate. Just say that you are interested, and then I shall post them on DB for 1 cent and pay the shipping myself.

I am going to send them to the first person who responds to this post.