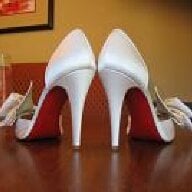 Joined

Nov 13, 2007
Messages

5,720
Please help... after reading Aprilcat's thread, it hit me that after agonizing over this decision for upwards of 4 weeks, I never even thought to ask for y'alls advice. (Yes, Y'all

)
If drastic measure need to be made, I'm almost willing to beg!!

We have decided on the Southern Carribean. I really wanted to go to some islands off of Venezuela, but FI isn't really up for staying in a B&B for a full week, so cruise it is.
Little background info- FI really enjoys the days at sea, and when we're on land, we like to be adventurous, or doing something entertaining. Not so much on the hiking, more on the sailing out to great snorkeling spots and secluded beaches. I have been on 2 Western Caribbean cruises, and FI and I went on an Eastern one. Our favorite stop was St Thomas( By Far

), but we also saw St Maarten/Anguilla. We aren't really into the whole shopping thing while on land. We'd rather be taking in all the local flavor we can.
Here are the iteneraries- (They are both on the same ship)
Cruise 1:
Day 1- Embark from PR
Day 2- Day at Sea
Day 3- Bridgetown, Barbados
Day 4- Castries, St. Lucia
Day 5- St John's, Antigua
Day 6- Philipsburg, St Maarten
Day 7- St Croix, USVA
Day 8- Disembark in PR
Cruise 2:
Day 1- Embark from PR
Day 2- Day at Sea
Day 3- Oranjestad, Aruba
Day 4- Willemstad, Curacao
Day 5- Day at Sea
Day 6- Roseau, Dominica
Day 7- Charlotte Amalie, St Thomas
Day 8- Disembark in PR
If you've been to any of these places, please share with me. Which ones, and what did you like/dislike? If you haven't been but really want to go, please share which ones and why?
We're making the decision by the weekend, so any advice would be helpful!!