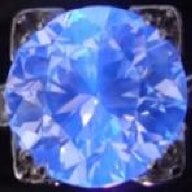 Joined

Apr 26, 2007
Messages

8,087
Mary, mother of mollusk, the first time you change a new piercing hurts.

Okay, so I got new holes pierced in my ears back in February. I had WG studs put in. I'm also on blood thinners for the next 5 months or so, so I may be healing weirdly. I don't know if it's an allergy, or if I just heal reaaaaaaaally sloooooooooowly these days, but my piercings are still sore and prone to getting angry if I don't clean them assiduously (which, hey, I'm a tidy person, but sitting there with a saline pad clamped to your ear twice a day is boring and time-consuming). So I figured I'd swap my WG studs for different earrings, and see if that encouraged them to heal faster.

Yeah ... apparently, my taste runs to ENORMOUS earrings. I knew that, intellectually, but I thought I had some little ones! Yeah, apparently not - even my pearls are too big to look okay in the upper holes. I finally managed to dig up some little silver crescent moons for my uppermost hole and a pair of silver hoops for the middle hole, and I figure I'll wear dangly earrings in the lowest hole to balance them out for the next week or so, but just to have a little variation - can you guys point me to places that sell graduated "sets" of earrings, or, alternately, just little earrings?

I'd love to find a set of graduated small hoops, for example - any thoughts on where one might find some? Am trying to stay away from WG or anything that might irritate the skin, so no costume. Thanks!