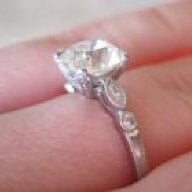 Joined

Jun 26, 2007
Messages

3,081
I've recently begun to update my jewelry box with real stones that don't have high price tags. I'm in love with moonstones, chrysoprase, chalcedony, and the like. I seriously wear a pair of moonstone earrings at least 3 times a week! Since I am young, it's much easier for me to acquire these pieces when I get the urge to go shopping, and I'd rather spend $75 on real stones than plastic.
So far, the only place I've found the quality I'm looking for has been this etsy jeweler,
http://www.etsy.com/shop/PRADMAN
. I have two pairs of earrings from them, and I've seen more of her stuff in person that a friend bought. I'm a fan, but I'm curious if any of you have a place you buy things that are along the same vein. I'm not talking the same strictly design wise, just good quality, semi precious jewelry.
As always, pictures are more than welcome!