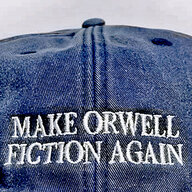 Joined

Apr 30, 2005
Messages

32,288
Autumnovember's thread about Whole Foods got me curious.
I wonder if anyone still goes to one supermarket for everything.

I go to four places:

30% Trader Joes Growth-Hormone-free dairy, cheese, wine, hummus, dried fruits, nuts, munchies, occasional chocolate or ice cream
30% Costco Fresh bread, rotisserie chicken, meat, fish, fruit juice, cheese, some produce, cleaning supplies and paper products
30% Buy Low A small super inexpensive local chain catering to Mexicans immigrants for dirt-cheap fresh produce and meat
10% Smart and Final Iris Staples like 50 lb bag of popcorn, 25 lb bag of pinto beans or brown rice
0% Big chain Supermarkets - too expensive, too corporate, too big; besides, I'm suspicious of apples the size of grapefruits.

We buy nothing with a brand name from the big food companies like General Mills, Frito Lay, Nestle's, Pillsbury, Kellogg's etc.
It's not a boycott.
I just perceive I get better quality cheaper from smaller companies and I'm not paying extra for huge advertising campaigns, or being manipulated by the whole brand-recognition thing.

People vary.
My choices only apply to me.
There are no right or wrong answers here.