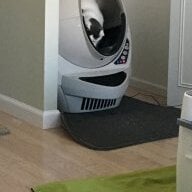 Joined

Jul 27, 2011
Messages

6,586
I really don't work in a field that lines up exactly with what I studied. Yes, if you take a thousand mile view of what I've studied in total, you can see how everything I've learned is valuable to what I do now. I'm interested in knowing what you studied, and what field you work in now. Bonus points if it's radically different

!
BA in Philosophy, minor in Mathematics - yeah... I just wanted to graduate as soon as possible after dropping out of electrical engineering track my junior year

MS-Eng in electrical and computer engineering - I've never worked as an engineer

JD - i graduated by the skin of my teeth working full time and going to school at night. I didn't sit for the bar. My loans scared the crap out of me, so I took the next job that came along that paid me MORE!
So, after all that education, I'm not a philosopher, engineer, or lawyer. I'm a project manager in tech.
Oh yes, and a trainer of cats - my proudest accomplishment to date! Kitty #1 sits, shake hands and begs. Kitty #2 goes to her spot, sits, shake hands, other hand, and begs. Kitty #3 is still a baby, but she sits and begs.