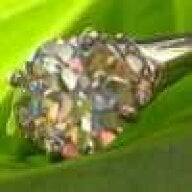 Joined

Jun 26, 2006
Messages

1,879
Hi, everyone! I have a situation with a close friend and I''m not quite sure what to do in a couple areas. My first question is...when do you give a friend a baby gift? When you find out they are pregnant, or when they have the baby, or sometime in between? My first close friend just got pregnant and let me know yesterday. Normally, I''d rush out and get her a gift and a congratulations card. But, she''s not married yet...she and her FI had a wedding planned for this upcoming October. Now they have to push the wedding forward to this spring. I talked to her on the phone yesterday and she''s not exactly excited about her pregnancy, in fact, she''s kinda down in the dumps, which I understand. They wanted to have kids someday, but not for another few years. But, since they have been together for a number of years and are already engaged, they are going to have the baby.

As you can imagine, this means that she has to totally redo her wedding plans. They need to find a new site, and a local one this time since there isn''t much time. Her dress comes in this Feb, and she''s worried it might be too small for her by the time of the wedding, which makes her really sad because she loves her dress. She''s trying to figure out what to do for us BMs, now that she''s not sure the dresses she wanted can come in time. Basically, she''s just bummed, and has a lot to do now. On the up side, her parents are excited about the baby, and her FI is doing his best to get her excited too. She isn''t the kind of person who really gets super excited over anything, but I wish her wedding could be a more exciting thing for her.

So, it seems weird to buy her a baby gift before a wedding gift...so should I wait till after the wedding? That''s what I was leaning towards doing. I don''t think they have a wedding registry yet, because their wedding wasn''t supposed to happen till October. And the other question: is there anything you would do to try and make things more exciting and happy for your friend? I want to do something to make things easier, and more exciting for her, but she lives across the country from me, so it''s hard for me to help with planning...though I offered to help if she needed me for anything. I don''t know her MOH or half of the BMs, either. Any ideas? I know a wedding is a one time thing, and I want hers to be special. I just wish I could help her out right now. What can I do to cheer her up?

Thanks for listening to that long story. Any ideas would be much appreciated!