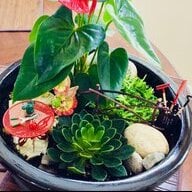 Joined

Feb 8, 2013
Messages

686
@Housecat,
@AGBF
,
@smitcompton
, I am so sorry to hear that your struggles continue with your loved ones, and I know that for whatever reason, everything just seems to hit so much harder at Christmas. My heart goes out to all of you.
It's exactly two years today since my family experienced the worst crisis we had dealt with up to that time with our youngest daughter, who is diagnosed with Autism Spectrum Disorder and Bipolar Type II. We had been dealing with one crisis after another with her for many years before that, but for me I just couldn't seem to get past that last one. It literally knocked the breathe out of me, and I know you all understand how that feels. I'm usually a very quiet, private person, but for some reason I decided to create this thread after that last trauma and it turned out to be the greatest source of support for me ever. So many wonderful people responded, all offered support and so many also shared their experiences, including all of you!! Thank you so much to all of you from the bottom of my heart!! It is so powerful just knowing you're not alone on this journey. We all love our children so deeply and that's why the pain of not being able to fix things is so deep.
I don't know if you'll find it helpful or hopeful or just a reality check, but I would like to share with you where we are as a family two years later. Our youngest daughter, who's now 27, is doing well in the life she is choosing. She has not come back home, and is now living with new roommates who are a more stable and grounded influence on her. She is doing well on her medications and has not had another hypomanic episode. She is in a long term relationship with her now fiancé who lives on the other side of the world. They have visited each other several times and he is looking to move here long term. We worry of course, but we are glad they aren't in a big hurry to move things forward. Our daughter receives disability benefits and cannot cope with full time or even part time work, so she isn't flexible to move to another country. She is still more or less the same person, but we do see some maturity. She is a drama queen and still tries to shock us to get attention, but that is her personality.
The biggest gift she has given us over the past two years is that she has shown us that she can make it without us!! This was our single biggest worry! It might be messier than we hoped, but she's doing it!
She has a circle of people (some professional/some friends) that can help her and she isn't afraid to ask for help if she needs it. And of course she has us too. When our daughter lived with us she was always stuck on waiting lists to get the help and support she was entitled to. Now that she's independent those wait lists disappeared and she's finally getting the services she was entitled to.
I can breathe again, finally. Life isn't perfect of course, but it's night and day to before. I realize what an impossible burden of stress we were under before and I don't ever want to go back to that place. I see my daughter at least once every week when I drive her to riding, and we text/call regularly. We have good weeks and not so good, but I won't let her effect me like she used to. DH and I are downsizing and we're having our new bungalow built right now. We're looking forward to moving next spring.
Hugs to all of you....I wish you all some well very deserved peace of mind and heart along this journey xoxo