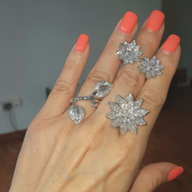 Joined

Oct 5, 2006
Messages

9,847
I *hate, hate, hate* my brown spots. It's like a curse for being Asian!

I wear sunscreen (SPF40-50) religiously everyday. Even my foundation has SPF built-in. I've had IPL, laser, radio-wave "thingy" and all kinds of whitening cream, and NOTHING, I mean NOTHING at all has removed or even lightened those horrible pigmentation spots. I have one little patch on my left cheek and lots of small ones all over my face. Except for the patch, the small ones can be fairly well covered up with foundation. But I am sick of having to cover them up everyday and the patch is really quite visible. I seem to get more and more brown spots as time goes by. The sun here is very fierce and I very rarely am outside for longer than 5-10 minutes at a time, even with the sunscreen.

Oh, and I've never been pregnant and the only medication I am on is Thyroxin (have been for the past 8 months or so), but I've had these little monsters for several years now.

So, what do I do? How do I get the existing ones removed or lightened and also prevent new ones from surfacing?

Thank you.