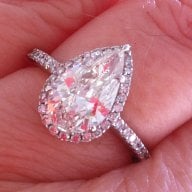 Joined

May 23, 2010
Messages

6,731
I'm talking foot-in-mouth blunders, things you wished you could have taken back seconds after they popped out of your mouth. We've all got them, let's hear it!

Here's a couple of mine;
When I was in high school speech class, we had to give a ten minute speech about a law that helped society. I got up and spent the ten minutes talking about "drinking while intoxicated". I just went on and on. People actually stopped me and asked "Are you sure you mean DRINKING while intoxicated?" Of course I was sure, what kind of question was that?
Yup. Major brain fuse. Afterward, when it is was explained to me, I was so embarrassed.
I got a D on the speech.
Here's another one:
We're all sitting at the dinner table one day, and my 13-year-old DD looks at her peas and says "I would what's IN peas?"
And I say "I don't think there's much in there beyond the essential pea-ness."
It took me a full minute to figure out why they were laughing . . .

Blunders of your friends, SO, family, are all fair game for this thread. Your turn!