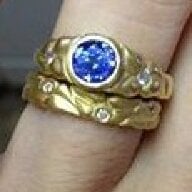 Joined

Jan 23, 2008
Messages

3,540
Hey ladies!
I thought since it's already JUNE we should do an update. It doesn't have to just be engagement movement related, it can be anything! Your life, things that have gone right/wrong/changed anything you want to update on.
I'd really like to hear from the ladies that are in the top 20-30's because we don't seem to be having a lot of movement in that area. So ladies what is going on in those crazy lives of ours? I've been on the list within a few months of meeting my SO and I am number 18 on the list now. I've been on it for about a year and I'm hoping that I'll be removed in the next couple of months. I posted in another thread but I'm going to post it again here just so it's all together.
How about summer plans? Is anyone going on any fun trips or doing anything special this summer?
Update on us below:
I don't want to get excited but I may have some news....

My SO always calls twice a day when he's at work and I'm at home (yes...every day for over a year I get phone calls at home and I LOVE them despite the teasing I get from other people
) and we discuss our day/etc on the phone. We have been very aggressively paying down our debt and are officially over the half way point for our biggest credit card (once that's paid off we only have ~10k combined worth of student loans left!) and the CC should be paid off by the end of the summer at the latest. This phone call we were talking about immigration/debt repayment/etc and my student loan comes to term in Oct (meaning have to start paying on it) but we are planning on paying the total sum all at once. Anyways we were talking about that stuff and I mentioned immigration stuff (I have a car that we'll be bringing up and other legal things that we'll need advising on soon enough) and he made a comment that we'll probably be engaged "long before the CC is paid off." Well during that SAME conversation he told me the plans to pay the CC off are no later then the END of this summer (we've been paying at MIN. 1k on the CC per month, closer to 1500 sometimes even 2k which has meant not going out/etc bc it all is going to debt repayment which is a good thing IMO).
We have plans to go to Niagara with my dad (the wine region and staying the night to see the lights...if you haven't seen it it's beautiful!) and perhaps it might happen there
Anyways I don't want to get to excited (must focus on other things, must focus on other things! lol) but I just thought I'd share! It looks like the longest time line from when I thought we'd get engaged (I thought back in Feb. on our anniversary but I guess that was to predictable lol) will be the end of Aug but or maybe even this month (doubtful I'm thinking either when Dad is up here or shortly there after, so mid-July).
Anyways back to your regular scheduled programming.