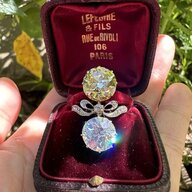 Joined

Feb 12, 2018
Messages

3,887
@JPie

, do you think that the Bell and Bird boxes on their site are nice quality? Worth the price? I was obsessed with these the last time you posted. Then covid came and I forgot about them. Darn if I wasn't reminded again today!
I loved the two boxes that I had made three years ago, so when they offered the ring boxes early last year, I bought another one. I noticed right away that the quality wasn't as good - uneven seams, glue showing, and a threadbare spot on the satin. They offered me a no-hassle refund and explained that they had one person making the boxes now instead of the team that made my original ones.
If you love them and they have a return policy, it could still be worth giving it a shot to see if it wows you in person.