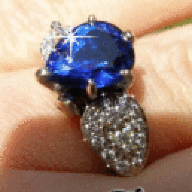 Joined

Feb 27, 2006
Messages

935
Just an Update, I found out last night that he doesn''t even have the ring. I didn''t ask, I was just talking about my sapphire and he said yeah, that''s something I''ve been meaning to call about, it still isn''t ready yet and I haven''t heard anything. I said not ready yet???!!! What do you mean it''s been almost 3 months!

They were kinda slow with the final view for the wax mold also, it had taken a month to finish up on it and when we went to the jeweler to look at it, it appeared as though they didn''t work on it that much more for it to take a month. I''m not trying to complaining, I understand they have other projects to work on and other things, but 3 months?? It seems like they just forget to call and wait for my b/f to call everytime.
We started with the designing of the ring in October, why the heck has it been 5 months?