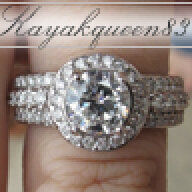 Joined

Jun 6, 2007
Messages

341
Hey everyone!
I went wedding dress shopping this weekend! Man it was tiring! I found two dresses that I liked but one of them had things about it that I would have liked to change so I veto-ed it. The dress below was by far my favorite (Casablanca 1900). It has just the look that I was going for, vintage with lace. I was planning on wearing a birdcage veil with my dress and my mother mentioned that it may not go well with this dress. What do you all think? Would it be too much?
I think I''m going to go try on a few more dresses. I loved this one but am worried because everyone I''ve talked to says that "you''ll just know when you find the one" and while I really like the dress, it wasn''t as if trumpets sounded when I put it on or anything. haha!
I''d love to get your opinions on the dress. I was envisioning something the hugged my curves a bit more but this style was a pleasant surprise on. Very romantic looking.
Opinions are appreciated!