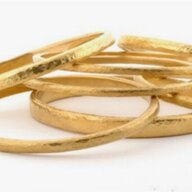 Joined

Jan 26, 2003
Messages

20,306
I wish hoops *did* look better on me, I've always wanted little diamond inside out huggies!
I am one of the people with the weird, off kilter ear lobes due to making the mistake of going to a dermatologist to have my ears pierced. (I have posted about this a lot. I was brought up to fear pierced ears and when I finally got them, naturally wanted them done with clean, medical precision.
I also forced my daughter, when she had her ears pierced, to do at the dermatologist's office.) The result was that my earrings have been askew ever since. Since my daughter grew into The Queen of Piercing and starting to frequent tattoo parlours for her piercings, I eventually learned that i should have gone to a professional piercer if I wanted my earrings to hang straight. But that is water under the bridge. I grew up white bread and I learned slowly.
A few years ago, though, I did get huggies. I actually hardly think of them as hoops anymore. (But then, given DSS-Diamond Shrinkage Syndrome-I no longer think of my 2 carat diamond as too big to wear in a ring I wonder if I should have taken it out of the ring to put in a pendant because I was embarrassed by it!)
I would get huggies if they look good on you. They are really not like hoops. In my opinion, of course. here are mine (since we seem to be doing photographs).