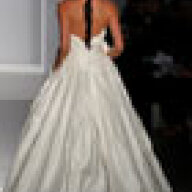 Joined

Jan 2, 2008
Messages

165
hi everyone,
this is my first post here.

i got married last september and don''t know what to do with my wedding dress.
i still love looking at it (albeit, it''s in a box now--part of me wants to rip the box apart and try it on again) but i''m wondering if i should just sell it and use the money for something else rather than let it decrease in value over time or worse, become "the hideous dress from 2008."
i thought i''d ask here (as opposed to BWW) since you guys might be more detached to your dresses and might give me more rational opinion or share what you did with your dress.
thanks!