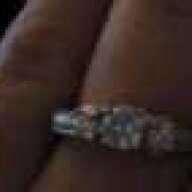 Joined

Nov 18, 2006
Messages

86
when i first started posting on this blog i was trying to cope with my bf''s younger sister getting engaged before me. well it happened again his brother who is my age(26) just proposed to his girlfriend.. im officially crushed. I dont understand i mean we live together he talks about marrying me all the time and yet are we engaged..Nope! i dont get it

It just seems like its happening to everyone but me and im starting to lose hope.. i went to a bridal show yesterday because we had talked bout getting married next march. so i was all excited .. now completely crushed.. when is it gonna be me that gets to send everyone pics of my ring.

Starting to lose hope!!!