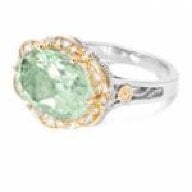 Joined

Aug 24, 2006
Messages

2,216
I thought I''d posted this earlier but for some reason the post disappeared???
In any event....I refuse to count the days until our wedding because I am afraid to find out how little time I have to take care of details.

Most of the big tasks have been completed thanks to the fact that we are having a destination wedding and our wedding coordinator has been pretty good in handling things. The resort has taken care of so much that I haven''t really had that "wedding planning" feeling and thus little excitement....until now! Yesterday I had my first fitting for my gown (yes I am waaaay late on that) and things went great! I''d had a nightmare a couple of weeks ago that I wouldn''t fit into my dress, but everything was A-ok with that. And today I ordered FI''s wedding band. After completing these last two things I am feeling VERY excited, which is great because you only get married for the first time once!
What I need help with is deciding what should go in the welcome bags for our guests. We will be getting married on the beach in St. Croix, US Virgin Islands and I''d like to have something nice for the guests who took time to be with us in a far off place. I am ordering some really cute customized gift bags which should arrive soon. And I am thinking maybe we will include sunscreen, maps of the island and a program of the weekend''s events. Other than that do you have any other suggestions or advice on what to include/what not to include and how to transport them????
Thanks!!!!