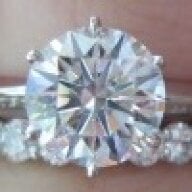 Joined

Jan 29, 2007
Messages

5,497
As some of you know, I was considering starting the Cookie Diet a few weeks ago, but instead I signed up for the more realistic Weight Watchers for the first time. Even though my BMI is a "healthy weight," I still gained a few pounds over the past year (especially the holidays) and I wanted to lose about 16 pounds total by Memorial Day weekend. I''m 5''9", and my normal size is a 6, but I eased my way up to an 8, and when my size 8 jeans started to get tight I knew that I needed to start doing something different.
At New Year''s, I joined the YMCA, and have consistently worked out 45 - 60 minutes per day, 6 days a week, since the beginning of the year - I''m running 20 miles a week, and I do a 1 hour boot camp class once a week. My old workout routine was 30 min. 5 days a week of jogging, so this was a ramp-up for me. I also started Weight Watchers online 2 weeks ago.
I didn''t really lose much weight with the extra workouts, but WW has really helped. The points system is great. I didn''t realize that even though I eat very healthy meals, and healthy snacks, my snacks were a lot of fat and calories every day (mostly fruit & nuts). So, cutting back on the snacking has made a big difference. I was tryihng to eat low-carb South Beach Diet before, and the weight wasn''t coming off at all, plus, I was dreaming about eating potatoes
So far, over the past 6 weeks, I have lost 6 pounds, and have 10 to go. It feels really slow only losing about 1 lb. per week, but if I keep that up, I''ll be at my goal by summer, which is what I wanted.
Anyway, I just wanted to thank those of you who recommended WW (thanks Skippy!) It''s so easy and I don''t feel like I''m on a diet - it''s great. I''ll let you guys know when I lose my next 5 ...