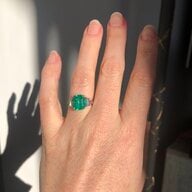 Joined

Sep 25, 2008
Messages

2,933
That it's everyone, no need to stress I have FIGURED THIS OUT!
For all the ladies out there dying to lose weight - this is a sure fire way.
Simply wear bright lipstick each day and you will spend the entire day wondering if it's migrated all over your face and teeth.... you will simply to too terrified to actually eat or drink anything for fear of smudging this lipstick which looked so good when you left this morning... and its even better if you realise you left the lipstick at home so you cannot do touch-ups!

...as I am now....