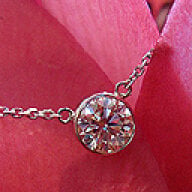 Joined

Oct 30, 2002
Messages

31,003
Well we just booked our trip in September to Hawaii to check out the place we are considering having our wedding and reception at. We will stay for a week, and I have a bunch of backup venues to check out in case this one does not pan out. I also am working on getting proposals from vendors beforehand so that we can visit and pin down details while we are there (e.g. taste the cake, the food, listen to the music). Hopefully by the time we come back we will be relaxed AND well on our way to planning a wedding!! Since I can''t really do TOO much until then, I''ve turned my boundless energy to trying to think about the theme and blah blah ..colors..etc etc. Oh and trying on some dresses in the meantime. Don''t like anything!

So speaking of color and theme and that, I''ve focused on invites. I found this amazing destination wedding site that has some great ideas for invitations. www.redbliss.com. It has packages made up for the destination wedding, e.g. all the info you''ll need to know vs the other sites that just have the invite and the reply card. But that got me thinking. Since I''ve done crafty work in the past and that gave me some ideas. Why spend $12 per set of invitations (40 invites...starts to add up!) and not get menus or programs or anything in the same theme...when I could try to hopefully make them myself?

I found some great websites, and ordered some cool papers. Pulled out all my old stamping and crafty tools...and got to work.

I''ve attached the three fruits of my labor. These are just samples and the dates and times and all that are not legit...the idea is that there''d be an invite, an accomodations/travel card, a response card, and maybe a ''visit our wedding website to stay updated'' card. I will also enclose maps, directions, etc etc...chances are all of this is going into a ''pocket fold'' (E.g. where the invite is in the middle and the invitation opens outwards and there is a pocket for all the other information--so they keep it all in one place.

There is a clear favorite amidst all of those who have seen the work so far. Keep in mind we are going for a casual personal feel but still somewhat elegant. We are talking Hawaii...so which one do you think conveys that the best?! The pink is in there because we were considering the pink and white orchids that are so popular (pinky purple), and that would tie in with the color of the invites. The greens are because I love neutrals and greens to me mean islandy and lush. Plus it doesn''t commit to a ''color'' theme or anything if we don''t decide to really have one.

Thoughts?!