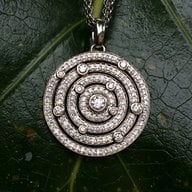 Joined

Dec 9, 2008
Messages

2,260
Hello ladies,
I have been thinking about wedding jewelry a lot this week. What are you guys doing? Are you wearing all fine jewelry or have you got some fab costume jewelry? Pictures?
As much as I think a huge fabulous costume necklace would look really striking and amazing......I think I'm going to go for the real deal. I work in a B&M jewelry store and so have acces to a lot of jewelry at near whole sale prices so I may as well stock up on some fab pieces for the day and obviously afterwards as well because I don't know at the moment if I want to stay in the jewelry industry long term.
I have a dia pendant, great little .43ct in a rub over setting which I could wear.Then other than my E-ring theres a few ropes of FW rice pearls which are a lot of fun and then just a coulpe of 9ct bands I wear stacked on my ring hand. What I really want is some great earrings!
I can't decide if I should go for long colored stone and diamond drops of some sort for the impact (but then they obviously wouldn't be everyday wear afterwards), or some little diamond dangles (....I work in a jewelry store so I could wear them everyday pretty easily and they are just a little more dressy than studs) , or pour the money into the best and biggest diamond studs I can afford (which is the most sensible purchase I guess, totally everyday wear, just not quite as glitzy as drops).
The little diamond drops I like are
like
these from
whiteflash
http://www.whiteflash.com/diamond-earrings/martini-drop-diamond-earrings-959.htm
, little diamond huggies with dangles, but the ones I like (and tried on all day at work yesterday) have little cluster dangles rather than a single diamond so they are extra sparkly. I really just want to buy then now so I can start wearing them right away. Is that bad? Or should I be "saving them" for the wedding?
I need advice, but would also really like to see what you are wearing or wore on your big day.