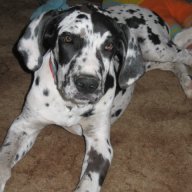 Joined

Feb 11, 2007
Messages

20
I found this looking back at the archives from 2005 and thought it would help me get to know everyone and lets us all see different ideas on our weddings. I hope it is ok to post.
Your Name / Fiance''s Name:
What you do:
Where you''re both from:
How you met:
How long you''ve been together:
Engagement date:
Wedding date:
Wedding location:
# of guests:
Wedding colors:
Your Dress:
Your Flowers:
Your BM dresses:
Flowergirl dress:
Groom''s and GM tuxes:
First Dance Song:
Wedding Cake:
Wedding Favors:
Honeymoon:
Anything else you want to mention!! Oh and don''t forget to include a picture if you''d like!!!