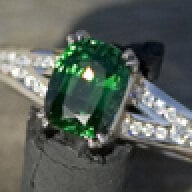 Joined

Aug 3, 2006
Messages

9,613
I decided to go for the full bridal immersion and attend the two biggest wedding fairs in the UK on consecutive weekends.
So last week I went to the "Designer Wedding Show" (DWS) and this Saturday I went to the "National Wedding Show" (NWS)
Well, I confirmed my stationery at the DWS, a gorgeous company called Piccolo Press from a little town in Scotland. They do a lot of letterpress work with the USA. I am having super traditional formal invitations and they have exactly what I want at a great price - and I get to support a small artisan business. Only choice is am I sensible and have the thermographed invites? Or, blow the budget and have proper copper-plate engraving? (or something sparkly instead for being good!

)
The problem has come with the dresses. I took little sister - who is 22 and despite the fuschia pink hair and multi-piercings, actually has very good taste - along to the DWS and we loved nearly all the dresses we saw - designers were Pronovias, Vera Wang, Sassi Holford, Christina Couture, Ian Stuart etc
I''m very keen on the new Pronovias collection - loads of lace, sheath sillohuette and a chapel train, mmmmm...
But, I really don''t want to spend more than $2,000 on my dress (London is super-expensive).
So, I go to the much cheaper NWS and... I could cry! There wasn''t a single dress I liked. They were all big pouffy meringues that were dripping in polyester lace and cheap crystals and felt horrible. I swear, most of them would have stood up on their own without anyone wearing them.
Options:
1) Try and buy this seasons next year secondhand (wedding is 26/07/0
Con: I am 5ft 10 which means if another girl has shortened it I have big problems.
2) Buy the fabrics from some wholesalers I have contacts with in Europe and find a not too expensive seamstress who is amazing.
Con: I''m paranoid that I could spend $1,000 on great fabric and then find my seamstress can''t make it look good.
3) Find some country where Pronovias are way-cheaper than here!
Saving is not an option - I refuse to spend more on a dress that I will wear for 6 hrs than my e-ring!
I knew I shouldn''t look at dresses I don''t want to afford - but now I''m in love with a certain look and can''t find it on any of the places I can afford - maggie sottero etc
What do you think my chances are of getting a dress like this made rather than buying from them and it looking like this?