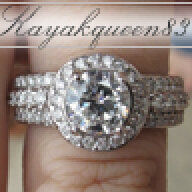 Joined

Jun 6, 2007
Messages

341
Can you guys tell that I''m in wedding planning mode today? Three threads in one day! I hope you are not getting sick of me!

We''ve decided on using peacock feathers as an accent in our wedding. We are getting married in a garden and the reception will be at a very old Mediterranean style hotel (by the pool). It will be a spring wedding. I was having the hardest time picking out the colors! Because we wanted to go with the peacock feathers as an accent, we were wanting bright jewel tone colors but it''s hard not have the colors be to fall-like instead of spring-like.
The bridesmaids will be wearing black short dresses. Each of the girls will get to pick out their own shoes all in different bright "peacock-y" colors. Then they will all have different bouquets to match the shoes that they pick out. Each bouquet although in a different color will have peacock feathers as accents. I''m hoping that it will tie them all together while not loosing the girl''s individuality. I created a mock up of the colors that I''m thinking of using. Please let me know your opinions. Do you think that it''s too much color? Also... the copper in the photo is more orangy then I would like but I just put it in to represent the color family.
Do you think the different colored bouquets will look silly? Do you think the color pallet is too dark for a Spring wedding? I''m not really into lighter colors and I keep coming back to the darker tones. I''m hoping the chartreuse and teal will help lighten things up a bit?
Thanks for all your help and opinions!