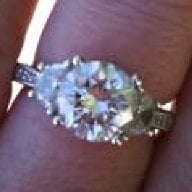 Joined

Jun 18, 2010
Messages

5,765
Time to start picking out music. What are you guys using for your ceremony? It seems there are six "parts" to a wedding:

1) Prelude
2) Processional
3) Bride Entrance
4) During the ceremony music
5) Recessional
6) Postlude

The way our venue is set up is everyone will be on one side of the property enjoying hors d'oeuvres, bloody marys, and mimosas, with music provided by a steel drum band. The ceremony itself is on the other side of the property. So, at the appropriate time, someone will usher people to the ceremony area. After the ceremony, it's back to the other side for the reception. These are my thoughts so far (as you can see I don't need all of the parts):

1) Prelude - Rhythm of Love (Plain White Tees)
2) Processional - Bless the Broken Road (Rascal Flatts)
3) Bride Entrance - Not sure. If I stay traditional it will be a steel drum version of the normal walking down the aisle song. But I'm not sure I want to stay traditional. Maybe "Going to the Chapel" or "Today I Met the Boy I'm Gonna Marry" or "In My Life" (possibly the Johnny Cash version)
4) Recessional - Lots of choices:
-Signed, Sealed, Delivered I'm Yours (Stevie Wonder)
-When I'm 64 (Beatles)
-'Til There Was You (Beatles)
-I Got you Babe (Sonny and Cher)
-I Only Want to Be With You (Me First and the Gimme Gimmies version)
-This Will Be (An Everlasting Love) (Natalie Cole)
-You're the One That I Want (Grease)
-I'm a Believer (Smashmouth version)
-All You Need is Love (Beatles)
-Happy Together (The Turtles)
5) Postlude - Rhythm of Love (Plain White Tees)

Question- What are your thoughts on having the same song for the prelude and postlude? This is basically people going to and from the ceremony spot...I thought maybe it would be a nice way to define the beginning and end? Or will people just wonder why the same song is playing twice?