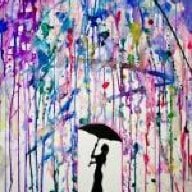 Joined

Dec 18, 2012
Messages

292
Flowers would cost a lot on a wedding, it is necessary to exert your intelligence to reduce the usage of flowers if you want to save money, or perhaps you can take making changes on bouquet into consideration. Since then you are a crafts lover, I believe you can create gorgeous and glamorous bouquet to alternate flowers. Let's have a view on some fancy bouquet here.
The innovative bouquet composed of various brooch and accessories is of bright glamour and varied style. If you would like to have the sense of pure beauty, you can choose silver accessories with some colorful elements dotted among the silver; if you appreciate the feeling of exuberance, groups enjoyed by various colors are good choose, and some embellishment of silver is a perfect choose at same time.
In order to enrich the sense of layering, some fake petals can be added into accessories, which would imbue the bouquet a colorful look and the amount of accessories would be reduced as well.
The easiest way to make the bouquet is to take advantage of artificial pearls, which would be simple yet graceful.
Feathers which are frequently regarded as to play an embellishing role are also the very common materials for making bouquet. Feathers of different width and length are absolutely a good choose used to make beautiful flower bunch. Those wide and short feathers can be used to be petals combined flexibly among the center of the bouquet; the fine and long feathers could be chooses of making a lap of furry mosaic style around the center.
Even the lapel flower of men can be altered with feather flower; the stained feathers are more practical.
Autumn is the season for ripe of berry, colorful berries such like red, blue, green, purple would not less charming than flowers, the combined fruitful bouquet made of berries not only of good looks but also implies positive meaning.
Some other good shaped plants such as reed and wheat are full of abundant meaning when tied into a bunch of bouquet and the embellishment of lavender or berries can be used to enrich the colors.
If you are a smart bride, you can sew a beautiful bunch of wedding bouquet with colorful fabric and ribbon.
Elements such as conch, shell and starfish are inevitable ornaments on marine wedding, which would certainly increase the feeling for beauty of the bouquet. However, only a few are needed to make a bouquet in that these elements are of relatively large size and three-dimensional sense, the only one point should be take into consideration is the sense of layers in the modeling process.
It can definitely be used when matching clothes, in fact those tips applies for jewelry making as well, beads bought from Pandahall.com would be my first choice to apply those tips learned from magazine and TV shows and so on.