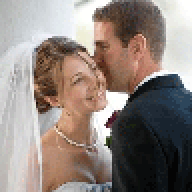 Joined

Mar 20, 2006
Messages

1,724
I am really upset

... and it seems so silly and stupid, but I figure if anyone would understand, PS people would.
I got engaged back in June with a lovely oval ring. Around that time, I started keeping my eye out for wedding bands that would work with it... it is kind of an awkward shape, and I am SUPER picky. When something bugs me even a tiny bit (bad haircut, etc.)... I will spend hours obsessing over it. So it was pretty important to me to find a band that felt "right", or else I knew I''d be staring at it endlessly wishing it were different.
So in the past 8 months or so, I have been to pretty much every jewelry shop in a hundred mile radius. Everything in downtown Philly, all of Jeweler''s Row (multiple times), King of Prussia (huge mall), etc. I checked everything in central PA (I was even in a Zales outlet... that''s pretty thorough

) and the Delaware beach area. We went down to the Caribbean and I spent multiple days perusing jewelry stores in St. Maarten and St. Thomas. At every place, I tried on whatever version of a bar-set 5-stone (10-points for .50tcw) band they had... in addition to a zillion other styles. But the bar-set always looked better with my band than anything else... just never quite perfect.
Then just before Christmas I was in a jewelry store nearby that had THE ONE. Bar-set, 5-stone, 10-pointers... but worked gorgeously with my ring in a way the others hadn''t, for some totally inexplicable reason. I literally dreamt about it that night... and was giddy with excitement for days. But FI said we''d wait til after the holidays to get it, when our finances were replenished. So we go back in January and it''s been sold. They''re no longer working with the company who originally made it, so they can''t order a new one. They ordered in something different instead... and it''s nice... but just like every other bar-set band, not quite right.
I am completely, totally crushed. FI''s reaction is "oh well, we''ll just keep looking".... but considering I''ve been to at LEAST 50 stores in the past 8 months and found only ONE I loved.... the odds of finding another? Not so good. Not to mention there''s nowhere left to look. Not to mention we''ve got 2 months until the wedding, and a whole lot of other stuff to do in our spare time other than fruitlessly scour jewelry stores up and down the East Coast.

I know it''s stupid, and I hate complaining about this when there are so many truly bad issues in this world. I am just so, so, so, so, so disappointed. And it came at the end of an already not-so-great day.... so overall, kinda upset.

Thanks for listening, folks....