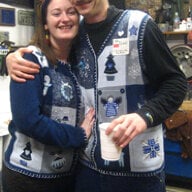 Joined

Jun 27, 2008
Messages

3,899
hi everyone! While i have miles to before i ever feel "fit", i have a wedding to go to this weekend and i want to make sure to keep off any excess water or extra weight so my dress remains to look fab on me.
Any suggestions on what to eat, or not eat, and drink (and not drink) etc? What about toning? i know i am not going to drop any weight (nor am i excepting too!) or lose inches, i would just like some tips to tone up a bit (if any).
So far, this is what i have
Drink:
No beer, preferable no wine, but no more than a 1/2 glass
Reg coffee only, no more than one cup a day --- replace with tea if possible (so far, so good!)
Drink lots of water
Drinking juices as a snack, rather than just snacking (which i am TERRIBLE AT)
Food:
no extra salt!
chicken(baked or roasted, no skin), tuna and veggies
no cand
Exercise:
Swimming when i can at least 10 minutes a day (I''m a terrible swimmer, but everything helps, right?)
lunges and high steps (stepping to where your knees come parallel with your hips), push ups in the morning
Getting up and walking around the cubical''s in the morning when i am without work to do
any other suggestions? I am not looking for a intense high paced work out, as this is my schedule, which is killer enough (and keeping the weight on

)
work 1 330 am - 11am
break 11am - 2 pm (when i go swimming if i am not exhausted)
work 2 2pm - 6 pm
home by 6:30pm, make dinner
in bed by 8:30, awake at 2:45am.
As you can see i am pretty much burning the candle at both ends, but right now staying afloat is important!
any suggestions or tips?