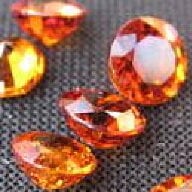 Joined

Apr 2, 2006
Messages

11,056
I am getting married this Saturday. As a long-time PS'er, I couldn't let the occasion slip by without some sort of a wedding thread! Fortunately for anyone who reads it, it'll be mostly after-the-fact, so light on wedding decision angst. I'll have to post in dribs and drabs, as time allows. We're having a teensy weensie backyard wedding but even that takes time to plan, as it turns out. (I'd insert a winking emotie here but I'm having trouble with that function).

By way of background...


It will be my first wedding and my Sweetie's third. We've been together for almost five years now. We've pretty much known we'd be getting married at some point for three of those five years, but we each had to pass a few unstated tests first. I had to develop and demonstrate fondness for camping! He had to prove to me that he was trainable - or perhaps a better word is flexible? Flexible not just in decisions, but also in viewpoints. We're both first-borns used to taking charge and managing situations and people, but I also have a large streak of people-pleasing. I had to be convinced and comfortable that I could would be an equal partner in the marriage - which included proving to myself that I could stand up for myself when necessary. I think we've been at that point for about a year now - and we're getting real good ad hashing out difficult things.

We decided to get married "soon" about 2-3 months ago as we were planning a road trip to visit some of my family that we hadn't seen in awhile. Several things contributed to the timing. One of course is that we were both really and truly ready to make the commitment - and there are some legal and financial considerations that come into play, too. Another, quite honestly, was that I wanted to take advantage of the pandemic. (Insert blushing emotie here.). Sweetie's family is in the habit of throwing festivals rather than weddings, something I wasn't looking forward to. Having a small "pandemic" wedding now allows us to decouple the actual ceremony from the party/celebration. Plus of course we do want to move forward with the marriage, and large celebrations simply can't be done safely yet - especially since there are a few factions in both families who are anti-vax.

So, this Saturday it is! The wedding will be held in Sweetie's Mom's backyard - we spent yesterday getting the yard ready for her close-up. The guest list consists of Sweetie's Mom and her longtime partner, representing Sweetie's family. She's also the only surviving parent, so in a way she'll represent all of our parents. One of my brothers will stand for both of us, and represent my side of the family. Add the minister, my groom, and myself, and we have a grand total of six people! Perhaps a bit smaller than even I had envisioned, but it'll be grand!