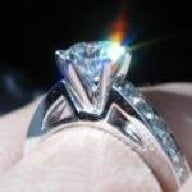 Joined

Mar 16, 2006
Messages

1,733
FF has a rental house in need of a new bathroom, so I am helping him demo and remodel the place. On the way to the house tonight, he casually says: "So, just curious... would you mind if I give you a used diamond?" I had no idea what the heck he was talking about and he must have glanced over at me and seen the look on my face, so he followed with, "Used as in, from... 1980????" I cracked up laughing and made him explain.
He works with a woman who heard him talking about wanting to propose to me recently, and she approached him about selling a ring to him. It''s a 1 ct solitaire originally purchased in 1980, and she knew it was H colored. FF has no idea what shape or cut or clarity or setting metal it''s in, but she wants to make him a deal as she is not wearing it anymore due to a divorce. She will be bringing him the ring to look at tomorrow and he said he''ll make copies of any papers or certs she brings.
If it''s a nice stone, I think we may use it for our engagement ring in a new setting. I have no idea how diamonds were cut in the late 70s/early 80s, so I am not sure what we will be looking at here. I am hoping it''s an RB, as that is the shape I''d prefer whether the diamond was new or "used". I explained to him how it''s possible that this diamond could have been passed through many people before this current owner and how it could be considered "vintage" instead of "used" and that made him grin.
Ever since this conversation happened out of the blue this evening, I''ve been so floored. FF shows a ton of enthusiasm for getting engaged but this is the first time he''s actually mentioned looking at diamonds or rings. Hopefully I''ll have some interesting updates for you ladies very soon, and some stats to post in RockyTalky!