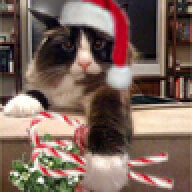 Joined

Jan 6, 2005
Messages

7,770
Hi all, I figured I would start a separate thread to 1) thank everyone who was so good as to send me dust for my thesis committee meeting yesterday and 2) let y''all know how it went. (For those who missed the original thread, I am trying to finish up my PhD, and this was a hopefully-final committee meeting to determine if I had enough to graduate/what I still need to do).
And...it went BETTER than I ever expected!!!



Some of the things I thought I still had to do, the committee didn''t think so, they added one minor thing in exchange, but its like a 2-week experiment, not a big deal at all. And they said that they thought I had "done a very good job" and that I''ve got enough to graduate, I just need to finish publishing my paper(s), do that one quick experiment, and put it all together


This is so much better than I was hoping for - I should be done on time without too much rushing or pressure, and I will (hopefully) even have a few weeks off before moving and starting work in August.
Did I mention - WOOHOO!!! So now I''ve got a week off, I''m going away with DH, and then its back to work, and my thesis advisor is ready to schedule my thesis talk (basically the final step), probably for June