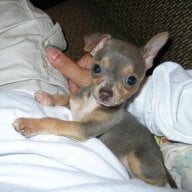 Joined

Dec 16, 2007
Messages

5,184
As many of you probably remember, I wrote a few weeks ago to get some opinions on how to precede with an issue involving my best friend.

Well, it came to a head about an hour ago...and I''m just heartbroken. I am so sad right now. So, here''s the update...and please tell me if you think I handled it wrong, or whatever... I just stop crying.

So...

I got a text message telling me that she and her husband were back together. And this is the text messages...

Her: Yep, we got it for her after counseling

Me: So you and R are working on the marriage?

Her: Yes, he is doing better and I told my parents last week. He is on his meds and going to counseling by himself and with me.

Me: Wow.

Her: Ok

Me: Well, I have to tell you it took a minute to digest the news, and I want to tell you that I love you like a sister but I think you''re making a mistake.

I know it is going to make you mad hearing this...and it''s certainly not my place to advise or tell you what to do, but we both know the story of your relationship and it breaks my heart you''ve decided to not honor yourself ... You deserve better.

I love you like you''re my sister, and I adore K but if having you both in my life means that having R around I just can''t do it that. I can''t pretend that I don''t know what I know.

Her: ok thats ur decision...i thought u would say that

Me: I don''t trust him, he''s attacked me personally with that he has said, and he has tried to convince you that I was the root of your marital problems.

Her: ook

Me: It''s the hardest thing in the world, but if I were to say ''congratulations'' or something to that effect, I won''t be being a good friend, I would be doing you a huge disservice. I love you enough to be honest with you, even if it costs me our friendship.

The End

She never messaged back, and I ran out of things to say. I am sick over this...I am frusterated, and I feel like she''s not the person I once knew. Does anyone have any advice on getting through to her? Or is this a complete loss? Did I do the wrong thing, or is it okay to walk away because I just can''t take it anymore?

Thanks.