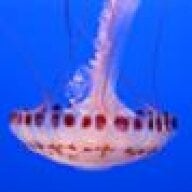 Joined

Nov 30, 2008
Messages

612
Okay, so I''m not sure what came over me today since I''ve ALWAYS chickened out about ring shopping by myself. Here''s the story...
I was meeting a friend for lunch and found myself early with some time to kill. It just so happened there was a jewelry store in the area.

So, I somehow found the courage to walk in and tell them I wanted to look at Erings. Before I knew what was happening I was trying on all sorts of settings AND FINALLY got to check out how different carat sizes look on my finger. The SA was really friendly...and naturally agreed with everything I thought! LOL If I didn''t like something, she didn''t like it, and vice versa. LOL Anyway, it was pretty fun and I found out that I love halos on my hand as much as in pictures on a screen. BUT, it just wasn''t nearly as much fun as I thought it was going to be! Am I the only one to come home less than thrilled about the prospect of an Ering after finally trying some on? I don''t know...it''s weird...I''m not really excited about the ring anymore. Maybe my expectations were too high about what these things actually look like in person and on my finger? Or, do you think maybe the quality is just THAT poor at the B&M I went to? (I''m hoping for the latter!) Maybe it''s because in reality I won''t actually be getting one for a year or more?