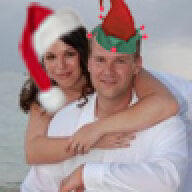 Joined

Jan 8, 2007
Messages

3,962
This thread is about ultimatums. (Obviously lol.)
Have you given one? Know anyone that has?

Personally, I don't think an ultimatum is a great way to start a marriage.
But, I know a few girls who have taken that step. Their relationship have ranged from 4-6 years.

I might have accidentally given my ff one just the other day! We were talking about summer vacations. Since my family lives in ME, his in VA, and we live in TX all of our vacation time goes toward visiting these families. Usually he goes to his family for xmas and I go to mine. One time we flew to Maine, took a train to Virginia and flew back to TX from there but it was a lot of money. Still, we are thinking about doing it again this summer.

His family is pretty conservative, so when we are there for a family reunion we aren't allowed to sleep in the same room. Last year, I didn't go at all because his mom told him that it might be "awkward" for the family if I had to sleep in my own room. I didn't get it...I thought she was punishing me or something because it wouldn't have been my first time going to one of their reunions, and no one seemed to have a problem with it before. I didn't see the big deal. I think that his mom was indirectly trying to tell him to get ENGAGED to me already, because directly after she told him that she started telling him that he needed to hurry up and put a ring on my finger. So, I didn't go, and ended up feeling embaressed and alienated. I don't think she meant to hurt my feelings. But at the time I took it as "You don't belong here since you aren't part of the famiily."

So since then I've been to VA with him for xmas, and everything was fine. I think it's just when the whole family from all different states are around that it gets "weird".

The other day FF and I were talking about his family reunion this year, and maybe we can do the whole ME and VA thing like we did a few years ago. I told him I'm NOT going to a reunion without a ring on my finger!!!!!!! I didn't realize how bad this sounded until after I said it. But I didn't care. I was so hurt last year that I can't bare the chance of someone saying that again. It wasn't a "marry me or that's it!" ultimatum, but it was an ultimatum nonetheless.

Another thing is that when you're in your 20's, like I am, you are still trying to find yourself. I know for a fact that if FF and I weren't together, and if I didn't think I might marry him one day that I wouldn't be living in TX. That is why, for me, I feel the need to find out what the heck is going on so I can go on with my life either way...you know? I can live perfectly happy in TX with him, but not without him. Without him, I'd leave in a milisecond...this state just isn't for me. Anyway, I wonder if other 20 something girls feel pressured to give ultimatums for these same reasons. I don't think I could even give the "ultimate" ultimatum though, as I said before. I want him to marry me because he WANTS to...but I want him to do it faster!