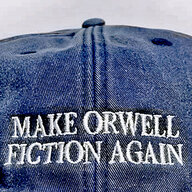 Joined

Apr 30, 2005
Messages

27,711
Over my 60+ years I've repeatedly noticed this characteristic in some people, particularly in those raised Catholic.
This really concerns me.
I love him and want our relationship to last.
I'm
faaaar
from perfect, and hope our relationship will last.
But this really concerns me.
After years of Jungian psychoanalysis I have learned to do my best to nix my own passive aggressive behaviors.
(Line farting, everyone does it and it always stinks.)
But now I see he's being very passive aggressive about something very important.
I'm not his boss or therapist, but I'm worried.
I'm not sure what to do.
Penny for your thoughts.
Last edited: