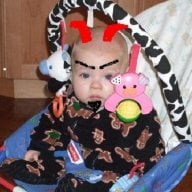 Joined

Jul 2, 2007
Messages

3,631
I definitely find myself avoiding oil though. I can't eat fast food or even anything out really because I have come home with my lip swelling after eating out. And anytime I let my dad or my MIL cook I get breakouts and red skin at minimum. Both are oil users. Then i come home to my oil-less cooking and not eating out. After a few days I am my normal colour with no extra problems for my face.
That sounds like food sensitivity. Have you ever tried to narrow down what could be causing your reaction or did allergy testing? I doubt you need to eliminate all oils from your diet.
My oldest has a food sensitivity to soy. Most processed food, fast food and many restaurants use soy in some shape, be it soybean oil, soy lecithin, soy flour or soy-based seasoning or flavoring. I have to manage his food very closely or he gets very similar symptoms to what you described. Swollen lips, rashes to the point he bleeds from scratching, hives and intestinal issues.